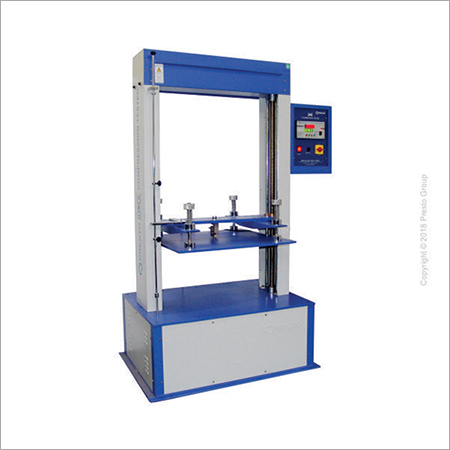 Box Compression Tester
Product Code : 57
Product Description
Box Compression Tester

Platform Size : 1 Mtr.x1 Mtr. ( 100 X 100 cm)
Cardboard boxes should possess sufficient compression strength so that they don not get deformed or crushed when stacked one above the other either during transit or in storage. The compression strength is determined by placing the box on a flat platform and pressing it down from the top with the help of another flat plate by a motorised arrangement.
PRESTO Box Compression (Motorised) for Corrugated Boxeswith Bright LED Digital Display. The unit comes complete with over travel protection; `TARE' and `P/H' (Peak Hold) facility.
The whole equipment is set on heavy duty cast iron plates for stability during testing. Heavy Duty construction with twin columns.
Platform Size for boxes : 1 meter x 1 meter ( 100cm x 100cm )
· Maximum Load : 1000 kg
· Type : Compression
· Power consumption: 2.5 KW
· Speed of Movement : 10 +/- 3 mm/ min (1/2" per minute and HOME location speed 2" per minute )
· Motor : 3 HP, 3 phase motor
A must for all corrugated manufacturers and packers who wish to test their empty and filled boxes as a whole. The equipment is built on a rigid metallic base plate and finished in Autumn Gray & Blue combination painting and bright chrome / zinc plating to give it a corrosion resistant finish.
The Instrument comes complete with Instruction Manual ,Electrical Wiring Diagram & Calibration Certificate traceable to NABL approved Labs.