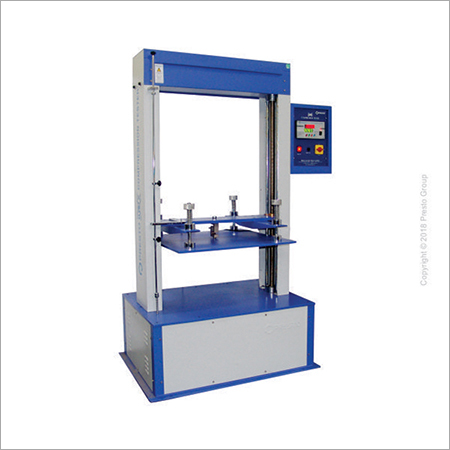 Box Compression Tester Digital
Product Code : 189
Product Description
Box Compression Tester Digital
Cardboard boxes should possess sufficient compression strength so that they don not get deformed or crushed when stacked one above the other either during transit or in storage. The compression strength is determined by placing the box on a flat platform and pressing it down from the top with the help of another flat plate by a otorized arrangement.
PRESTO Box Compression (Motorised) for Duplex and corrugated cartons with Bright LED Digital Display. The unit comes complete with over travel protection; `TARE' and `P/H' (Peak Hold) facility. A low cost compact tester for the packaging industry.
The equipment is very rugged with heavy cast iron base for stable performance at load. The highly sensitive load sensor is strategically placed to enable perfect corner to corner load results.
Platform Size : 450 mm x 450 mm

Maximum Load : 500 kgf

Type : Compression

Least Cost : 100 gms

Power consumption: 1 KW

Motor : ½ HP single phase 220V; AC Motor

Speed of Movement : 10 +/- 3 mm/ min (1/2" per minute and HOME location speed 2" per minute )