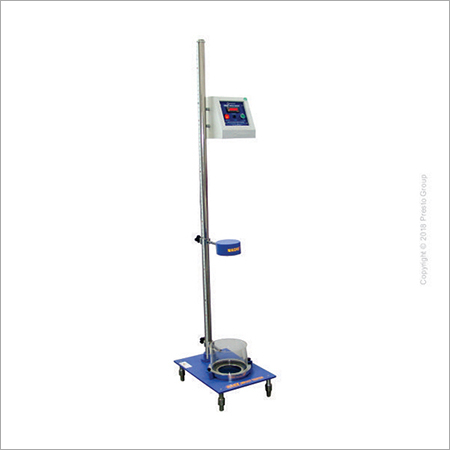 Dart Impact Tester
Product Code : 14
Product Description
Dart Impact Tester -

Adhering to the ethical business policies, we are manufacturing, supplying and exporting Dart Impact Tester. This equipment is used to determine the impact resistance of polyethylene films and that too under specified conditions of impact of a dart that falls freely. Hemispherical head of the dart allows it to be dropped from variable heights. The dart of Dart Impact Tester is held by and electromagnetic holder that releases the dart at the press of button.

Other information:

It is used for determining Impact resistance or impact failure load of polyethylene films under specified conditions of impact of a free falling dart. The dart has a hemispherical head and can be dropped from
variable heights; it is held by a strong electromagnetic Dart holder which releases it at the press of a button.
Technical Specifications :
Inside diameter of clamp : 127mm
Specimen size : strips of 240 mm width
Release Mechanism : Electro Magnetic.
Diameter of dart head : 38mm
Weights : Ranging from 5gms to 500gms supplied.
Height of fall : 220,660,and 1524 mm
Counter : Digital.
Vacuum Pump : Available separately as an optional accessory
RELATED STANDARD
IS 2508-1984 : Specification for low Density Polyethylene Films