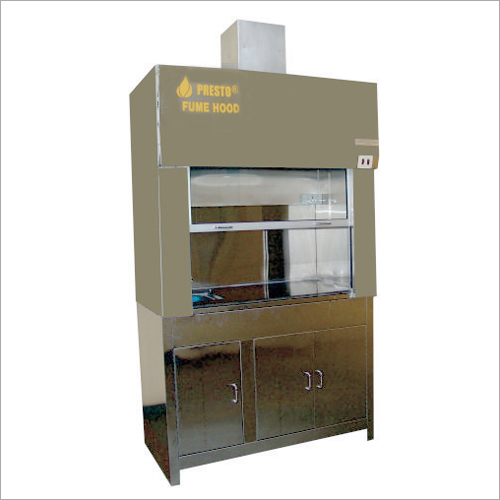 Fume Hood
Product Code : PFH-90
Product Description
Fume hood is designed to prevent the testing laboratories from contaminants such as mist, fumes, dust, chemical vapours as it offers a frontier disclosure to harmful and toxic fumes. It serves as a physical barrier to reactive chemicals. The device is set up against the walls to exhaust all the fumes that are generated inside the laboratories with chemical reactions. Because of the different shape of these hoods, they are dim from inside but also have a provision of light.
Specifications
Outer Body Construction: Heavy stainless steel construction of 304 Grade with size 2′ x 2′ inch.
Work Table comprises a water tap, glazed ceramic tiles, small stainless steel sink and water outlet.
Sliding glass door on the front that moves with a counterweight.
Designed with a centrifugal motor fan with exhaust fumes emitted through PVC pipe.
Motor: ¼ HP, Single Phase, 1440 Rpm
Power Supply: 220 - 230V, 50/60 Hz, Single Phase AC
Body: Stainless Steel Chamber
Fan Blower: 4 inches

Features

Ergonomic and Energy Efficient Design
Fumes are completely eradicated from the workplace.
Thick glass covers in front for safe & silent operation.
High-performance air flow control
Excellent chemical resistance ability and Requires low maintenance.