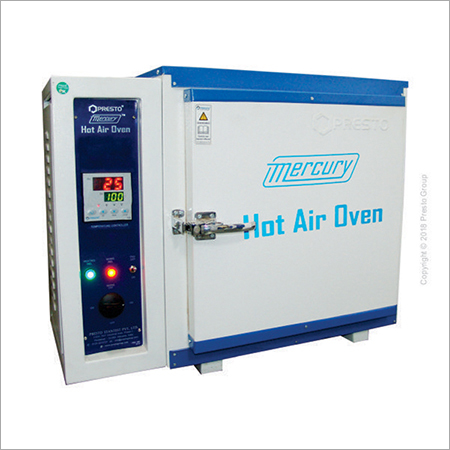 Hot Air Oven
Product Code : 42
Product Description
Hot Air Oven
The Presto Hot Air Oven is used to determine the effect of elevated temperature on various types of materials such as rubber, textiles, yarn, plastic, metal, paper and more. Therefore, it is highly used in testing ageing, heat resistance and heat deformation in the rubber industry, paper industry, textile & yarn industry and various other fields. The Presto Hot Air Oven is very reliable and time tested instrument. The exterior has been given an autumn gray and blue combination finish and the chrome/zinc plating to provide resistance to corrosion.
The Presto Hot Air Oven consists of a double walled chamber, wherein the inside wall is fabricated using heavy stainless steel and the outside wall is fabricated using duly powder coated mild steel. Impartial mineral glass wool is incorporated within the walls to ensure that the chamber is properly insulated. The temperature range of the this instrument can be varied from Ambient to 250 C, with a temperature regulation of +1 C. A digital temperature controller cum indicator is installed to gain accuracy. A special T/P action ensures that the temperature does not overshoot the prescribed level.
The heaters are installed at the bottom in the ribs and also in the sides of the chamber. The equipment is equipped with a hot air blower and air circulation fan to ensure even temperature distribution. A special port with adjustable openings has been incorporated in the oven for change of air or introducing an external sensor. A separate control panel which is housing all indicators is provided on the right side of the main body, to aid better visual monitoring during use. Two adjustable stainless steel trays are providedto ensure comfortable sample placement and storage.
A digital Preset Timer 999 hours and a chart recorder have been installed to provide easy data collection. A PID controller and computer generated data output facility is also available. Customized Hot Air ovens with Temperature range from ambient to 300 C can also be provided on special request. The instrument comes along with an instruction manual, electric wiring diagram and a calibration certificate traceable to NABL approved labs.
The oven controller has Special T/P action to avoid overshooting of temperature. It has Stainless Steel Inside Chamber, Outer is Mild Steel neatly powder coated.

Complete with Hot air blower and Digital Temperature Indicator cum Controller. A separate control panel housing all indicators is provided on the right side of the main body allowing easy maintenance and accessibility Aesthetically designed for long life and comfortable usage. Two Stainless Steel adjustable trays are provided for sample storage. All instruments used are calibrated and certificates issued are traceable to National Labs.
Technical Specifications -

| | |
| --- | --- |
| Controlling | Digital Temperature Controller cum Indicator |
| Maximum Temperature Range | Ambient - 250°C |
| Power requirement | 220V-240V single phase 1 KW |
| Inside Dimensions | 455mm x 455mm x 455mm |
Other sizes available on request
Digital Programmable timer available as an optional accessory