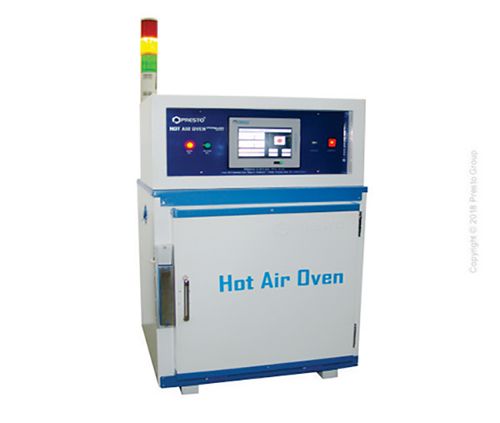 Hot Air Oven - Prima Series
Product Code : 01
Product Description
Hot Air Oven - Prima Series
We are testing instruments manufacturers and supplying the best tools to our customers; our motto is always a quality tool for making the quality product. The Universal Memmert Type Digital Model of Hot Air Oven - Prima Series is manufactured and designed to perform the various tests on different kinds. The testing procedure requires high temperature, compression set, hot deformation and heat resistance such as aging, hot information, etc. The oven has NEW GRAPHICAL LCD Display indicates images and values to show user-friendly messages. Our prima series has stainless steel used for inside chamber and outer is M.S. neatly power coated. The machine is aesthetically designed for durability and appropriate utilization.
Other Information
The machine has hot air blower and digital temperature indicator cum controller. The right side of the main body has a separate control panel; housing all indicators. This allows easy maintenance and accessibility. The mineral wool fills the space between the two walls for insulation. The sample storage is made on two stainless steel adjustable trays. The heaters are the industrial type, and an air circulating fan is also provided for uniform temperature distribution within the chamber. The fan motor cooling is maintained with the additional fan provided. For changing the airflow or placing an external source, a port with adjustable openings is available.
We deliver our machines with complete care and security, our hot air oven is finished in Autumn Gray and Blue painting and bright chrome / zinc plating that provides a corrosion resistant finish. Presto delivers the Instruction Manual, Electrical Wiring Diagram and Calibration Certificate that is traceable to all NABL approved labs.
Key Features
The Hot Air Oven has auto-tuned ADVANCED PID control for temperature with timer and soft power on key.
The machine operation is performed with five soft touch keys whereas the LEDs indicates heating, alarm, fan, and power indications.
The user can set multiple parameters with the help of Graphics Menu Driven system provided with feather touch key operation.
The prima series has 100 type sensors with an advanced setting option for appropriate handling of critical menu setting. The Fan Enables and Fan On-Off Timer settings are present in menu settings.
The machine has SSR-based output control with Real Time Clock (RTC).
The alarm sounds to indicate the beginning and stopping of the process as well as to indicate the high and low temperature.
On board data logging is up to 1000 logs.
The data logger is provided with RS232 PC communication software.
The electrical circuit breaker (MCB) is provided for protection.
Optional Features
We also offer the hot air ovens in other sizes and up to 300 degrees Celcius against specific requirement.
Technical Specification
Instrument size: 18 x 18 x 18 inch (455 X 455 X 455mm) inside.
Maximum Temperature Range : Ambient - 250 C Features.
Resolution 0.1 degree celsius.