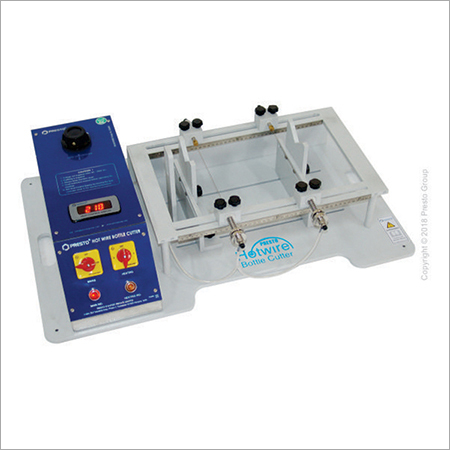 Hot Wire Bottle Cutter
Product Code : 86
Product Description
Hot Wire Bottle Cutter -
We are a well-known entity in this industry, engrossed in offering an excellent quality Hot Wire Bottle Cutter. Offered cutter is manufactured under the stern guidance of our experienced professionals using the finest quality components. It is mainly used to cut the pet bottles in pieces as per the application requirement.
PET bottle test sample of capacities 200 ml to 500 ml (largest dia =110 mm) can be precisely cut in 3 parts: bottom; cylinder and top. Each of these parts having exact assigned weights; to comply with the quality specification obtaining an ideal wall thinness distribution. This guarantees the physical and mechanical quality requirement. The product process in being controlled on a statistical basis by checking the weight of the cut parts.
Other Details -
Number of cut samples : Three (3)
Weight : 35 kg. Approx.
Rating : 220V; 50 Hz. A.C.; Single phase - 0.5 KW
Product Specification:-
| | |
| --- | --- |
| Sections cut | Top, Cylinder, Bottom |
| Display and control | Digital Heat display and controls |
| Maximum Weight | 35 kilograms |
| Dimensions | 700 mm x 400 mm x 400 mm. |
| Power Consumption | 220V, 50 hertz AC with 0.5 KW |
Hot Wire Bottle Cutter – NXG with Digital Heat controls ( For Perfect Heat control )
Complete with special tubular ceramic former wound with resistance wire; embedded in silicone coating and cured in controlled atmosphere. It results in a high reliability resistor which withstands adverse conditions due to winding being totally embedded.The Ceramic formers are non-hygroscopic; which withstand severe thermal shock and have a thermal co-efficient of expansion that matches the components parts of the Resistor which helps in highly accurate temperature control of wires ensuring best results while cutting bottles.
Why Prefer Us -
We are an ISO certified company therefore we have been enhancing and maintaining our quality and value addition
We use higher grade of raw material to produce this hot wire bottle cutter
We use advanced technologies to produce this bottle cutter
We have designed and developed various tools to inspect the quality of this preform defect chart
As we use high quality of electrical and electronic devices fitted in this preform defect chart, it is more safe and reliable
We are offering these hot wire bottle cutter at very affordable rate in the global market