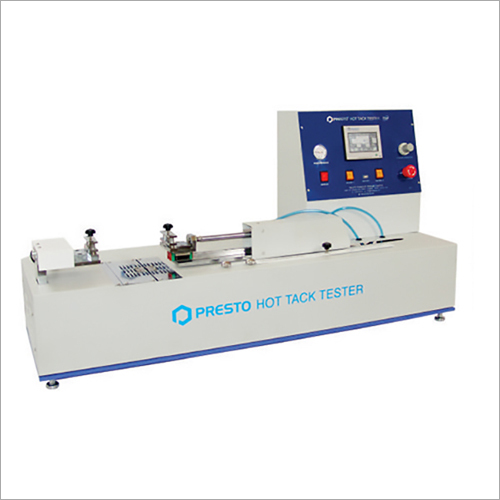 Prima Hot Tack Tester
Product Code : HTTP-063
Product Description
Being a renowned manufacturer of the testing machine, we bring forward an amazing assortment of PRIMA Series HOT Tack Tester. It is an extremely efficient testing machine which is provided to perform hot tack and heat seal test of plastic films, laminated films, and other packaging products. It is also used to test the tension, peel, and shear strength of the products like laminated films, plastic films, adhesive tapes, papers and other similar flexible products. The testing device is used to test the heat seal performance of the plastic films to test the peel strength of adhesive tapes. The tensile strength of composites, films and sheets can be measured easily with the device.
Specifications
Dwell Hot Tack Time: 0.1- 999.9 seconds
Dwell Heat Seal Time: 0.1- 999.9 seconds
Sealing Pressure: 2 Bar to 7 Bar
Sample size: 25 mm
Sealing area: 100 mm x 5 mm
Temperature Least Count: 0.1 \ C
Temperature accuracy: +/- 1. 0 degree
Sealing Temperature: Ambient to 250 degree
Load cell capacity: 3 kg
Resolution: 3 grams
Hot tack speed: 150 mm/sec.
Load accuracy: 1% FS
Span: Cross head distance – 250mm
Test type: Hot tack tester / Peel off
Power supply: 220 V AC, 50 Hertz, Single phase.
Peel off speed: 50-500 mm/min.
Instrument Dimension: 1200 mm.(L) x 390mm (W) x 640mm (H)
Standards: The testing device conforms to various standards such as ASTM F1921, ASTM F2029.
Features
Ensures reliability
Designed on heavy metal base.
Rust –Resistant Finish
User-Friendly Controls
Additional Information: