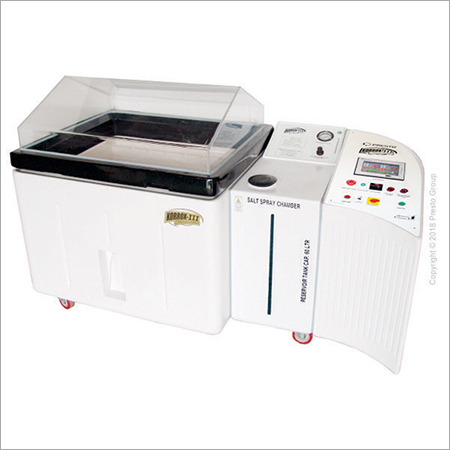 Salt Spray Chamber Korrox III
Product Code : 02
Product Description
Product Details:
| | |
| --- | --- |
| Material | Fiber Reinforced Body |
| Temperature Range | Ambient to 40 Degree Celsius |
| Temperature Accuracy | +/- 2 Degree Celsius |
| Product Type | Fog Chambers |
| Voltage | 220 V |
Salt Spray Chamber is a consistent tool useful for checking the corrosion resistance of surface coatings when exposed to salt laden environment. This instrument provides simulation of real time weathering conditions. PRESTO CASS cum Salt Spray Chamber is manufactured under various Test Standards ASTM B 117 and JIS Z 2371.
Features:-
HMI based Touchscreen Model
Inbuilt temperature settings
Salt Spray Test mode enabled to set parameters according to test sample
Temperature setting and Preset Timer functions incorporated in HMI for accuracy and repeatability
Corrosion Resistant PT-100 sensor
Solid state digital Programmable Temperature Controller
Program profile for selecting test parameters and performing the test.
Easy Data Management. User can create PID settings, Air Saturator settings, test temperature, test and air purge time etc.
Current test running status display
Robust Construction with Fiber reinforced body(Triple wall)
Ease of use of sample placements inside the test chamber
Pneumatically operated canopy (only for 250 Ltr. Model)
Air purge after test for fog settlement.
Microprocessor based inbuilt PID controller
Reservoir Tank inside sponge filter available
Auto Tuning feature selection
Run time vs temperature graph
Data recording with temperature data reading
USB option available (Pen drive is not a part of supply)
Option available to set PV and SV value
User can control PID settings through Advanced Hysteresis setting
Angle of Canopy maintained in order to restrict flow of droplets directly on the test sample.
New Innovative Features:
Any electronic device or computer system with Ethernet adaptor or network card can be connected with the test machine using New Ethernet connectivity.

Inbuilt VNC server allow the user to have remote control and monitoring based on HMI activity. Using VNC client apps on your system, you can access the system from far distance.

These remote functions can be blocked when the machine is accessed on-site. This will avoid the unsynchronized operational commands.

New Web monitoring feature will allow the user to see the registered test data on webpage without any software installation.

Alarming situations during test will be notified via email updates to log in members. Supports Secure Sockets Layer (SSL) protocol to protect the data transferring.

10 Pre-set timers takes responsibility for precise sample timings

HMI based interchangeable fonts for users who understand Hindi better. One can change the language anytime to Hindi from English.