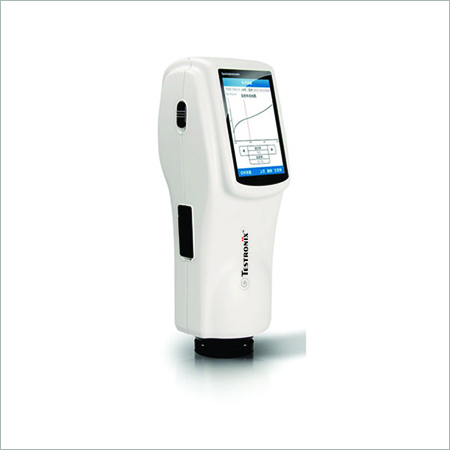 Spectrophotometer
Product Code : TP800
Product Description
Product Details:
| | |
| --- | --- |
| Product type | Spectrophotometer |
| Display | Touchscreen Display |
Description
The TP800 is a highly precise and stable spectrophotometer offered by Testronix which is designed and works on the principle of LED spectroscopy. It classifies the light according to its wavelength and the sensor array assembly performs highly accurate and responsive inspection. The instrument is abridged to any color used in industries.
The engineers and scientists of Testronix have compared the instrument with many another spectrophotometer internationally and found that the maximum error exhibited by the Testronix instruments was under ± 1.5 whereas the error exhibited by Japanese spectrophotometer was under the range of ± 1.0 which implies that the product of Testronix is completely compatible with international markets.
The device is easily portable and has an ergonomic design for easy operation.
Other details:
Illumination or Observation system: 45/0 method

Integrating Size of Sphere: 58 mm (Diameter)

Light Sources: Combined LED sources

Sensor: Silicon photodiode array

Illuminant: D65,D50, A,C,D55, D75,F1,F2,F3,F4,F5,F6,F7,F8,F9,F10,F11,F12

Color Space Indices: CIE LAB, XYZ, Yxy, LCh, CIE LUV, HunterLAB

Minimum Interval Between two measurements: 1.5 s

Diameter of Measuring Aperture: 8 mm

Wavelength range: 400~700 nm

Communication: USB/RS 232

Display: Capacitive
The other chromaticity data that is used for best analysis include the following.
YI(ASTM D1925, ASTM 313)

TI(ASTM E313, CIE/ISO)

WI(ASTM E313, CIE/ISO, AATCC, Hunter)

Metamerism Index (Mt)

Color Fastness

Color Stain
Features
Capacitive Touchscreen featured

45/0 geometrical optics structure

Software based output

Silicon photodiode array sensor

Two standard observer angles

Visible Spectrum 400~700 nm Reflectance curve