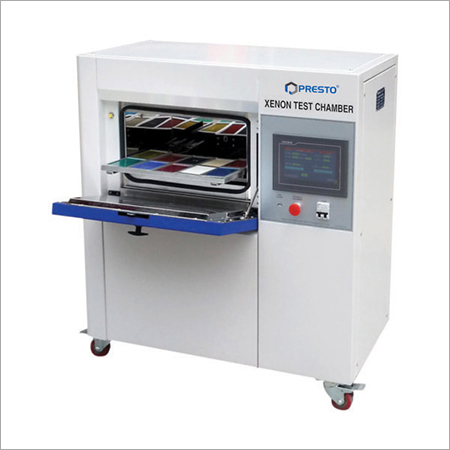 Xenon Testing Chamber
Product Code : PSPL- 866
Product Description
Product Details:
| | |
| --- | --- |
| Power rating of bulb: | 1.8 KW |
| Exposure area: | 1000 cm3 |
| No. of Specimen: | 9 |
| Irradiance range: | 0.35 W/m2 to 120 W/m2 |
| Temperature can be adjusted from | 300C to 800 C |
| Maximum power rating of Chamber: | 2.5 KW |
| Size: | 780 mm X 580 mm X 1040 mm. |
| Weight: | 65 kilograms |
Majorly polymers are use in a variety of industries for different use and purpose. The polymers and elastomers are also used for many applications where they have to be exposed to open environment for a long time. This exposure to open environment has a great effect on the quality and durability of the polymers as the environmental factors can cause fundamental changes in the molecular structure, chemical and physical properties of polymers. The Xenon testing chamber offered by Presto helps in testing the effect of environmental factors such as UV rays, moisture, sunlight, heat etc. The instruments is equipped with a heavy duty xenon arc bulb which has stable characteristic and helps in easy assessment of polymeric test samples under the influence of environmental factors. The instrument is manufactured according to the guidelines in various standards.
Features
High performance and long durability

Stable and repeatable testing procedure.

Complies with all the standards.

Easy and simple operation